01782 27 11 93
CONSPEC began trading back in 1981 as Continental Auto Specialists in Hanley, Stoke-on-Trent. John Bailey was at the forefront of the business after gaining experience in several local dealerships. It is now a family run business along with his son, Steve Bailey.
We have well over 70 years experience within the motor vehicle repair sector from dealing with private customers, small/medium businesses and nationwide fleet services. We offer competitive pricing alongside a friendly and professional level of service that you would expect from a family business.
At CONSPEC we like to make things easy for you. So we've made it even simpler for you to access our NEW web site on the go. All you need to do is add our website icon to your iPhone or iPad home screen and you'll have instant access to our web site. The best part is that the process couldn't be easier.
If you've got an iPhone or iPad, here's how it works:
Open up Safari and load our web site. http://www.conspec.co.uk
At the bottom of the screen you'll see an icon depicting an arrow that looks like it's trying to get away from a square. Tap this button.
You'll now have a few options. The one you want to tap is "Add to Home Screen".
You'll be asked to choose a name for the home screen icon. Stick with ours or choose your own.
Our website will now show up on the home screen of your phone. You'll never have to type in our URL again.
Opening Hours
Monday: 8:30 - 5:30
Tuesday: 8:30 - 5:30
Wednesday: 8:30 - 5:30
Thursday: 8:30 - 5:30
Friday: 8:30 - 5:30
Saturday: Closed
Sunday: Closed
Promotion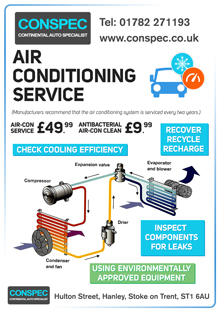 Click to enlarge